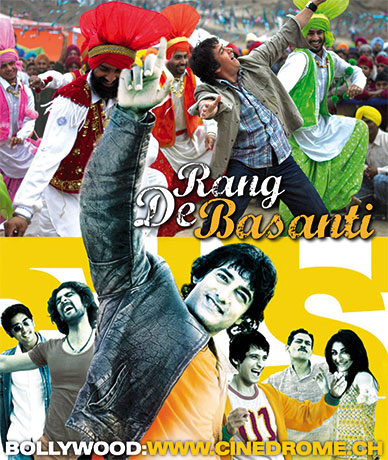 Movie:
Rang De Basanti (2006)
Starring: Aamir Khan, Soha Ali Khan, Siddharth
Director: Rakeysh Omprakash Mehra
Language : Hindi
Quality: DVD
Eng Sub: Yes
Plot : A young, struggling British filmmaker Sue McKinley (Alice Patten) comes across the diary of her grandfather, Mr. McKinley (Steven Mackintosh), who served as a jailer in the Imperial Police during the Indian independence movement. Through the diary, she learns about the story of five freedom fighters who were active in the movement: Chandrasekhar Azad, Bhagat Singh, Shivaram Rajguru, Ashfaqulla Khan, and Ram Prasad Bismil. McKinley, in his diary, states that he had met two type of people in his life: the first one... who died without uttering a sound and the second kind ... who died with lots of anguish.. crying over their deaths... McKinley reveals that it was then that he met with the third kind.... Having decided to make a self-financed documentary film about these revolutionaries, Sue travels to India, with the help of her friend, Sonia (Soha Ali Khan), from the Institute for International Studies at the University of Delhi. After a few unsuccessful auditions in search of the actors, Sue finally casts Sonia's friends, four young men — Daljit "DJ" (Aamir Khan), Karan Singhania (Siddharth Narayan), Aslam Khan (Kunal Kapoor) and Sukhi Ram (Sharman Joshi) — to portray the revolutionaries. Though they aren't very enthusiastic at the idea of acting in a film about the independence movement, Sue eventually manages to convince them. Laxman Pandey (Atul Kulkarni), a political party activist, joins the cast later, despite initially being unpopular due to his anti-Muslim beliefs and contempt for Aslam Khan. In the process of filming, the idealism of India's revolutionary heroes seeps into the protagonists. They gradually begin to realize that their own lives are quite similar to the characters they portray in Sue's film and that the state of affairs that once plagued the revolutionaries continues to torment their generation. Meanwhile, Ajay Singh Rathod (R. Madhavan), a flight lieutenant in the Indian Air Force who is Sonia's fiancé, is killed when his jet, a MiG-21, crashes. The government proclaims that the crash was caused by pilot error and closes the investigation. Knowing that Rathod was an ace pilot, Sonia and her friends do not accept the official explanation. Instead, they claim that he sacrificed his life to save hundreds of other lives that would have been lost had he ejected from the aircraft and left it to crash into a populous city. They investigate and learn that the crash was due to a corrupt defence minister (Mohan Agashe), who had signed a contract exchanging cheap and illegal MiG-21 aircraft spare parts for a personal favour. To their surprise, they learn that the key person who was responsible for organizing the deal was Karan's father, Rajnath Singhania (Anupam Kher). Angered by the situation, the group and their supporters decide to protest peacefully at India Gate, a war memorial in New Delhi. Police forcefully break up their protest using batons; in the process, Rathod's mother (Waheeda Rehman) is severely hurt and she slips into a coma. DJ, Karan, Aslam, Sukhi, and Laxman decide that they must emulate the early freedom fighters and resort to violence to achieve justice. As a result, they kill the defence minister to avenge Rathod's death, while Karan murders his father for his corrupt actions. The minister is reported to have been killed by terrorists and is hailed as a martyr by the media. To bring forth their intentions behind the killings, the five of them attempt to reach the public through a radio station. They forcibly take over the All India Radio station premises after having evacuated its employees. Karan goes on air and reveals the truth about the defence minister and his wrongdoings. While still on the air, the police proclaim that they are dangerous terrorists who have forcefully taken over the AIR, and therefore they are to be shot on sight. The first to be shot is Daljit, who tries to get out of cover and establish that they are not terrorists, however the shot is not a fatal one. Sukhi, unable to control his anger at this gets out and is instantly shot to death. He dies with the last smile still etched on his face. As they are trying to lock the terrace doors, Aslam and Pandey are then killed due to a grenade explosion and the once archenemies die holding hands and smiling, as they have visions of Ram Prasad Bismil and Ashfaqullah. Daljit manages to crawl to the Recording Room, where Karan is still on air. When Karan understands that he has been shot, they speak amongst themselves for the last time, regarding the others, about Sue and about Daljit's love for her. It is there that they are shot to death, but not without the sound of their hearty laughter still hanging in the air like an echo of long dead music. It is then revealed that McKinley described the third kind of people he came across as being the ones who embraced death as a friend and an equal, with a heartfelt laughter. After their death, the public reacts with outrage and expresses urge to bring Indian Politics to justice, following the motives of all the boys. The film comes to an end with Sue describing the impact of the boys on her life. As she and Sonia watch from the rooftop that Ajay proposed to her on, they have a vision of the boys running in the fields, singing happily and victoriously throwing their shirts in the air, acting as if they are celebrating life itself, as if the ebb of their once-there vitality still reverberates in the places where they once used to go, and a wave of melancholy comes over the two surviving women. In an afterlife-like state, the boys watch as a father tells his son (a young Bhagat Singh) about gardening. They watch over him with smiling faces, then depart as friends for eternity.
Seo Tags :Watch Hindi Movies Online, Bollywood Movies Online, Latest Hindi Movies Online, Watch Free Hindi Movies,South Indian Movies,Hindi Dubbed Movies,South Indian Movies in Hindi,Tamil Movies in Hindi,Telegu Movies in Hindi,All South Indian Movies in Hindi